The distinctly unique Mara Engai Lodge is nestled amongst the pristine Kenyan Ravine forest on the Oloololo (Siria) Escarpment. Overlooking the amazing Masai Mara National Reserve and Wildebeest Migration Route, 1,000ft below. With around 120km of unbroken views across the vast savannah of the Masai Mara over looking into the Serengeti– it is simply breath-taking.
MARA TRIANGLE
The Mara Triangle is the North-Western part of the Masai Mara National Reserve, Kenya, and is managed by the not-for-profit organisation The Mara Conservancy on behalf of Trans-Mara County Council (Trans Mara District).
Divided from the rest of the Masai Mara National Reserve by the Mara River, the Mara Triangle is less visited and less crowded, often with many more game animals grazing on the plains and between the volcanic hills that distinguish this corner of the Mara.
Our unique, specially adapted 6×6 Pinzgauer vehicles for game viewing will lead you via our private road directly from the Lodge to the gated Mara Triangle.
ADDRESS: Oloololo (Siria) Escarpment, Masai Mara, Kenya
GPS CO-ORDINATES: 1º 21'15.36″ S  –  34º 52'07.34″ E
EMERGENCY CONTACT TELEPHONE: +254 (0)726091330
LOCAL AIRSTRIP:  Mara Serena airstrip - Pick ups from alternate airstrips are available at a small fee.
TRANSFER FROM SERENA AIRSTRIP TO MARA ENGAI LODGE: 30-35mins
CLOSEST PARK GATE: Oloololo • Distance to lodge: 20KM • Pick up/drop off to and from Oloololo Gate available at a small fee, email for further details
MARA RIVER: 20 KM
ALTITUDE: 1,800m
TEMPERATURE SUMMER: Oct – Apr   min 20°C/68°F – max 34°C/96°F
TEMPERATURE WINTER: May – Sep   min 11°C/52°F – max 25°C/77°F
MIGRATION SEASON: Mid June to October
RAINFALL: Long rains: Mar – May; Short rains: Nov – Dec; Rain usually in brief showers
CURRENCY: Kenya Shilling (KSH), US Dollar (USD) also accepted
PARK FEES: Please note, Mara Triangle Park Fees are not included in our rates and Fly - inn Packages and are payable locally upon arrival/entry into the Mara Triangle. Cash and credit cards are accepted, for more information click here to visit the Mara Triangle website
Big 5
All members of the "Big Five" (lion, leopard, African elephant, African buffalo, and black rhinoceros) are found in the Masai Mara. The plains located below Mara Engai Lodge are some of the best for game viewing, in particular lions.
Private Road
We have our own private road, maintained by us, that leads directly form the Lodge to the Mara Triangle gate. Sit back in comfort in our specially adapted Pinzgauer vehicles and enjoy stunning views and game spotting from the moment you leave the Lodge. 4×4 vehicles are required to access our area.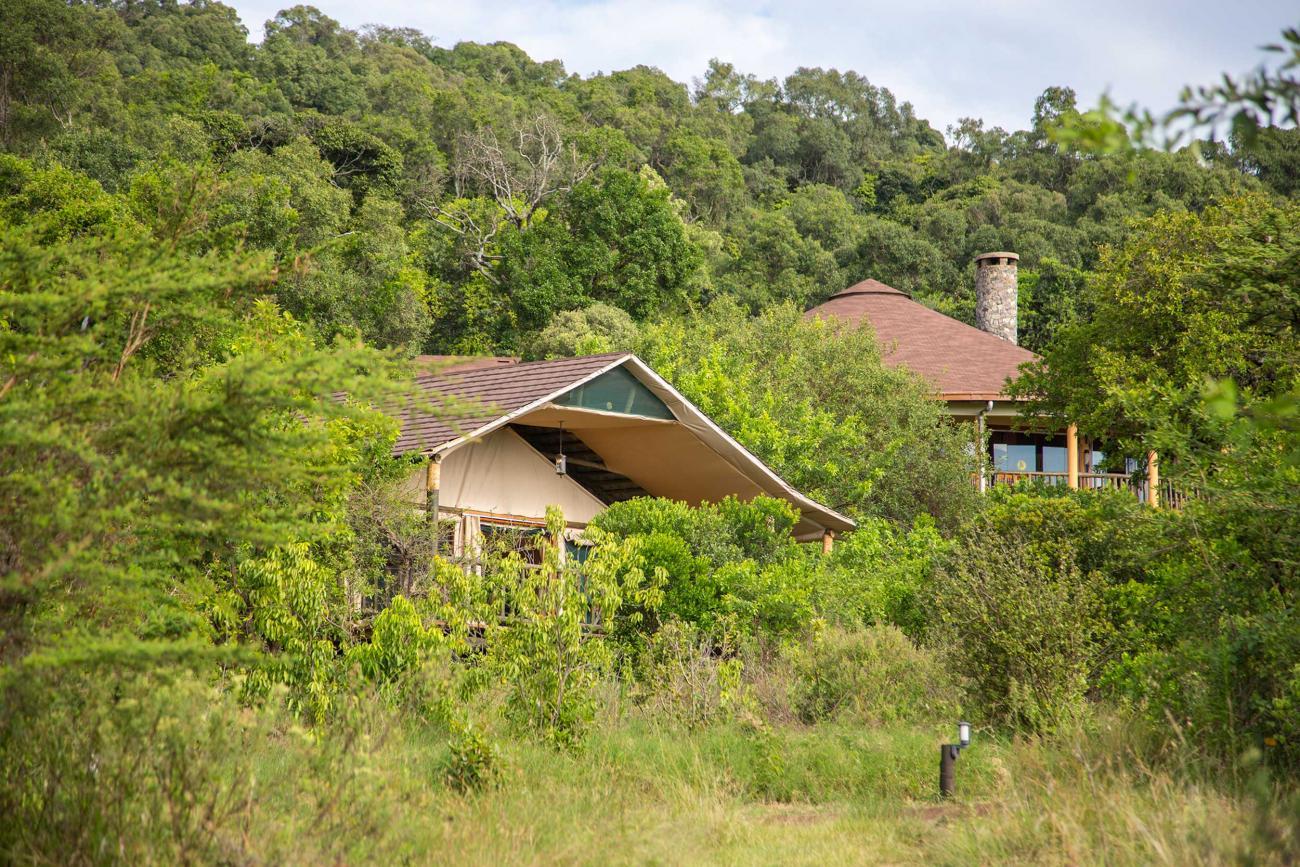 Escarpment & Ravine Forest
The position and volcanic rock composition of the Esoit Siria Escarpment gives rise to lush ravine forest. This is where Mara Engai Lodge is located — nestled amongst the rich forest like a natural hide. This elevated location overlooks the wide open grasslands of the Mara and the densely populated wildlife that favours this region.